[ad_1]

Two for the price of less than one.
Locals can explore two exciting Asian destinations for less than the price of visiting only one of them. 
Return trips to Tokyo, Japan from Vancouver typically cost between $1,550 to $2,250, according to Google Flights. That said, there are some considerably cheaper return trips on dates commencing in April 2023, including a couple of tickets that cost between $1,100 and $1,200 round-trip with one stop in each direction. 
For travellers looking to explore South East Asia, there are several inexpensive tickets to Hanoi, Vietnam, too. While return trips in January 2023 cost upwards of $950, prices drop by roughly $100 in February. On select dates, round-trip tickets cost just over $810. After February, however, prices jump up significantly, climbing over $1,000 in March and onward. 
In April 2023, multi-stop itineraries from Vancouver to Tokyo and Hanoi cost as little as $800, which is less than the price for visiting either destination on its own at this time. 
For example, on one cheap ticket, a flight departs Vancouver International Airport (YVR) on April 25 and makes one stop in Tokyo en route to Noi Bai International Airport (HAN) in Hanoi. On May 11, there is a direct flight from Hanoi to Narita International Airport (NRT) in Tokyo, and then the final leg of the journey is a direct flight from Tokyo to Vancouver on May 23. 
The total cost of this trip with Japan Airlines (JAL) works out to $801.86 including all taxes and fees on FlightHub.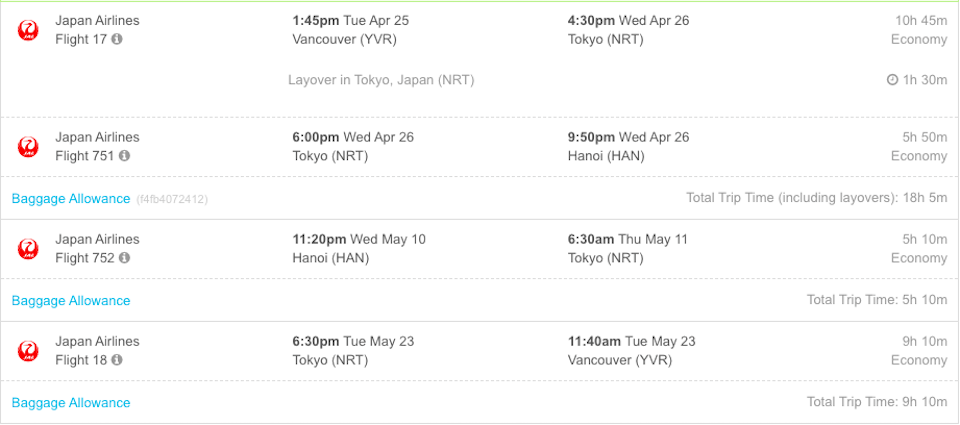 Explore Vietnam and Japan with cheap Vancouver Flights
Aside from its striking natural beauty, Vietnam offers an intriguing culture, fascinating history, delectable cuisine, and much more; mouth-watering bowls of pho can cost as little as $2. While it has places that are ideal for quiet contemplation, the cities buzz with energy. There are numerous places to shop and travellers can get tailor-made suits and dresses for very little. 
Tokyo is the largest city in Japan and offers seemingly endless things to see and do. From breathtaking temples and shrines to elevated dining experiences, exciting nightlife to peaceful gardens, there is something for everyone to enjoy. The city has a vibrant, bustling atmosphere, and many locals don extravagant styles on its streets. For instance, the Harajuku style includes a variety of brightly-coloured clothes, garish costumes, teased hair, and sky-high shoes.
Visitors may also explore Mount Fuji, the Ghibli Museum, the Zao Fox Village, Tokyo's Robot Restaurant, and much more.
[ad_2]

Source link